SERIMARK, specialist textile printing and object :
- 2,000 Square meters feet of workshop and offices
- Up to 40 peoples in high season
- More than 20 000 silkscreen printing and pad printing per day
- Can manage your small orders till your biggest
- A real time logistic service
- Una tracciabilità continua dei vostri ordini, dalla ricezione alla spedizione
- Silkscreen printing
- Pad printing
- Luggage
- Dome finish
- Cap
- Umbrellas
- Various services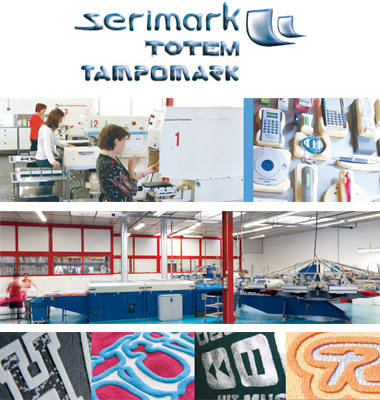 RAPHAEL ASSOCIATION
Recognized Association of General Interest
The aim of this association is to support children in their fight against the disease, to help financially and morally the families of children with leukemia and to help research.
Thanks to your donations, the RAPHAEL association has already carried out various actions and has many projects in mind to help children and their families.
DUBOURDON PRODUCTIONS,
Creator of fun, informative and educational tools in pediatrics :
For over 7 years, we imagine and realize illustrations for hospitalized children.
These pictures are intended for decorative wall panels, playful signage, medical and simplified booklets and other informative or educational tools in medical facilities.
These brackets are used to facilitate the reception of children by medical teams and help defuse care.
Since 2012, BORACAŸ support DUBOURDON Productions and has made possible the realization of numerous projets in Lyon area including the IHOP (Institut d'Hématologie et d'Oncologie Pédiatrique) as well the CMCR (Centre Médico-Chirurgical de Réadaptation) of Massues.